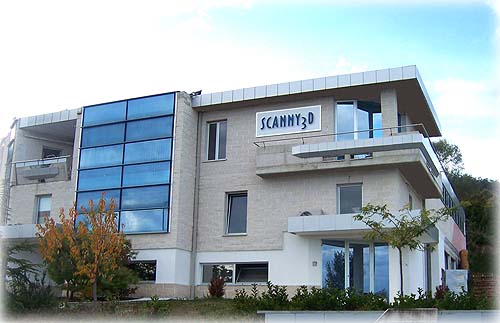 ---
Address:
via Archetti, 15
63831 - Rapagnano (FM)
ITALY
Phones:
Support: +39 (734) 510.410 (Int. 3)
Sales manager: +39 (734) 510.410 (Int. 1)
Direction: +39 (734) 510.410 (Int. 2)
Email Addresses:
The Scanny3d s.r.l. is located in the center of Italy, in the Marche region. The company can be easily reached:
- By car from the A14 motorway (exit Macerata - Civitanova M. )
- By train from the Civitanova M. railway station
- By plane from the Ancona-Falconara airport

Directions: from the A14 exit continue in south direction to SS77 road; exit to Montecosaro and continue in direction Casette d'Ete/Montegranaro; turn into Strada Mostrapiedi/SP219; turn right to SP239 (direction Montegiorgio); turn right to Contrada Tenna/SP72; turn first left to Contrada Archetti and go on for 300 meters.