SCANNY3D - BASE
The new 3D laser scanner in desktop version affordable for all!
Available in version for 3D COLOUR SCANNING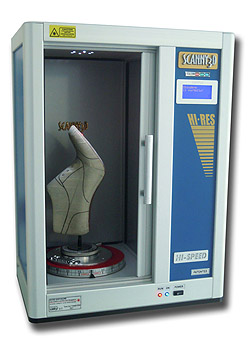 SCANNY3D is based on a new patented optical scanning method
FEATURES:
Affordable price
It does not need maintenance work
Small Dimensions and Low Weight
Easy to use, even by unskilled users
High scanning speed
Scanning Preview
Automatic Calibration Process
Customising according to the needs of our customers
Easy Connection to common PC
Contemporary acquisition of shape and colour (optional) to perform an high fidelity colour 3D model
The software issued can be interfaced with the more common CAD-CAM systems
APPLICATIONS:
Reverse engineering (CAD-CAM)
Quality Control (by sample)
Rapid Prototyping
Footwear (acquisition of lasts, soles and heels)
Medicine (prosthesis modelling)
Graphic Computer Modelling
3D web catalogue
Technical Moulds Modelling
Analysis of warped and weared out surfaces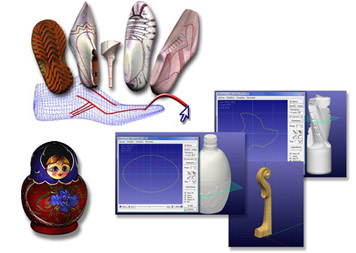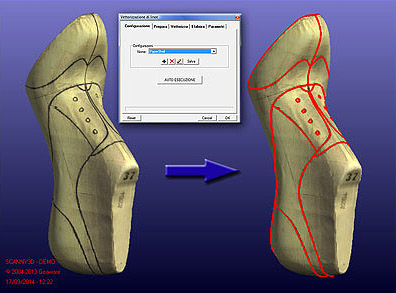 Result of the automatic vectorization procedure
LINES VECTORIZATION function
Automatic vectorization procedure of lines or curves present on texture of a colour scanning
Completely automatic procedure based on preexistent configurations
Editing and processing of the generated 3D curves
Differentiated vectorization depending on the colour of lines
Management of dashed lines
Management of crossed lines
Automatic chaining of broken lines
Click here to download the brochure in PDF.
Scanning volume:
Cylindrical – Diameter 200mm, Height 350mm
Accuracy:
0.05 mm
Max. Weight on the plate:
10 Kg
Scanning Method:
Patented system based on double spot laser and a colour video camera
Scanning speed:
Revolving plate speed: 5-12 rpm, Head movement speed: 60 mm/sec
Power absorbed:
25 W operating, 2 W in stand-by (power supply 19v 2A)
PC interface:
USB 2.0
External dimensions:
390 (Width) X 280 (Depth) X 526 (Heigh) mm
Weight:
16 Kg
Accessories provided:

Power supply 110-240v, Cables, User guide, CD-ROM with software, Special support for lasts, N°3 supports for different objects, Model for auto-calibration Special paint for transparent objects.

.
---
Click here to download the technical sheet in PDF.