SCANNY3D - TOWER
3D line laser scanning with vertical movimentation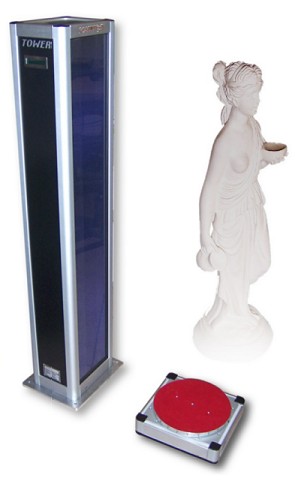 SCANNY3D - TOWER model
FEATURES:
Version dedicated to 3D scanning of surfaces and reliefs
It does not need maintenance work
Small Dimensions and Low Weight
Easy to use, even by unskilled users
High scanning speed
Scanning Preview
Automatic Calibration Process
Customising according to the needs of our customers
Contemporary acquisition of shape and colour (optional) to perform an high fidelity colour 3D model
The software issued can be interfaced with the more common CAD-CAM systems
Possibility to connect more TOWER units in synchronization to scan fixed objects or anatomical portions
APPLICATIONS:
Amphoras
Statues
Reliefs
Anatomical portions
Big size rigid objects
OUTPUT FORMATS:
Vector (3D): DXF, STL, ASC, IGS, VRML, 3DM (Rhinoceros), STEP, OBJ
Raster (2D): BMP, JPEG, AVI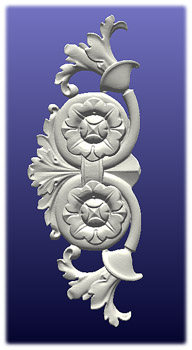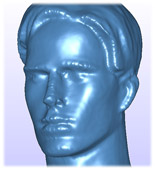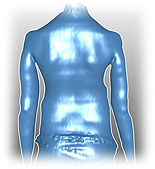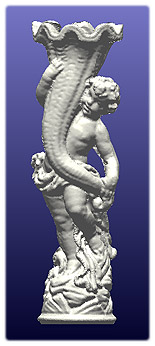 Scanning volume:
Cylindrical: 600 mm (diameter) X 900 mm (height)
Accuracy:
Up to 0.3 mm (in function of the focusing distance)
Max. Weight on the plate:
30 Kg
Scanning Method:
Line laser with vertical movement (Z axis)
Scanning speed:
Up to 20.000 points/sec.; complete scanning in few seconds
Power absorbed:
50 W operating, 2 W in stand-by (power supply19v 3A))
PC interface:
USB 2.0 / Gigabit Ethernet
External dimensions:
240 (Width) X 180 (Depth) X 1100 (Heigh) mm (except the rotating plate)
Weight:
15 Kg
Accessories provided:

Power supply 110-240v, Cables, User guide, CD-ROM with software, Special paint for transparent objects.

.
Options:
Synchronized rotating plate for 3D scanning at 360°. HI-RES: scanning with double accuracy.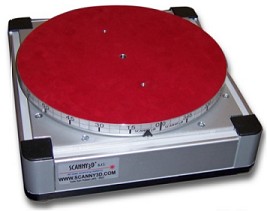 External rotating plate for 3D scanning at 360°
---
Click here to download the technical sheet in PDF.