EXPLINE
The new 3D scanner with double line-laser ultra-fast!
3D laser scanner model EXPLINE
FEATURES:
Affordable price
It does not need maintenance work
Small Dimensions and Low Weight
Easy to use, even by unskilled users
Completely automatic scanning
High scanning speed (typical scanning time: 5-10 minutes depending on the complexity of the object)
Scanning Preview
Automatic Calibration Process
Customising according to the needs of our customers
Easy Connection to common PC
Contemporary Acquisition of shape and colour (optional) to perform an high fidelity colour 3D model
The software issued can be interfaced with the more common CAD-CAM systems
APPLICATIONS:
Reverse engineering (CAD-CAM)
Quality Control (by sample)
Mechanics (metal sheets, moulds, gears, etc.)
Rapid Prototyping
Plastics, bottles, etc.
Footwear (acquisition of lasts, soles, complete shoes)
Archaeology (statue and amphorae scanning)
Graphic Computer Modelling
Technical Moulds Modelling
3D web catalogue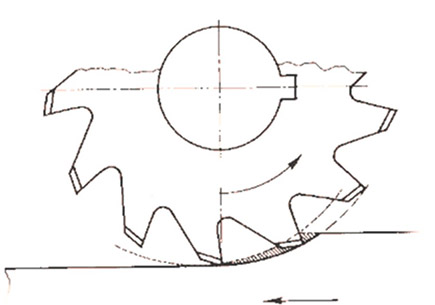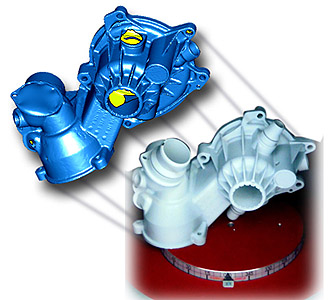 MECHANICS sector
Software functions for digitalization of complex parts in mechanics
Ultra-fast scanning
High measurement accuracy
Automatic surface reconstruction
Resolution of undercut problems for complex objects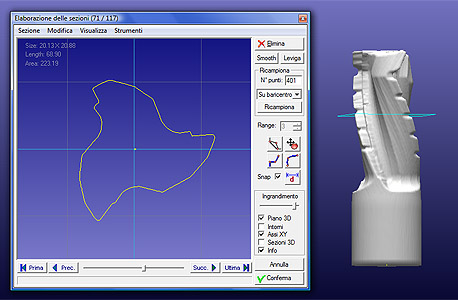 | | |
| --- | --- |
| Scanning volume: | Cylindrical – Diameter 300mm, Height 500mm |
| Accuracy: | 0.05 mm |
| Scanning step: | Selectable for zones: from 0.1 mm to 10 mm |
| Max. Weight on the plate: | 10 Kg |
| Scanning Method: | Rotative 360°, with double laser beam and a colour video camera |
| Scanning speed: | Up to 10.000 points/sec. |
| Power absorbed: | 50 W operating, 2 W in stand-by (power supply 19v 2A) |
| PC interface: | USB 2.0 |
| External dimensions: | 490 (Width) X 380 (Depth) X 706 (Heigh) mm |
| Weight: | 16 Kg |
| Accessories provided: | Power supply 100-240v, Cables, User guide, CD-ROM with software, Supports for different objects, Special paint for transparent objects. |
| Options: | COLOR: 3D color scanning in high definition with texture |
---
Click here to download the technical sheet in PDF.